We proudly offer dishes made with a lavish amount of local ingredients and an array of gourmet food Hiroshima prides itself on,
such as Hiroshima oysters, Miyajima specialty Conger Eel, Hiroshima beef, and black sea bream of Seto
Dinner and complimentary breakfast served to hotel guests staying with an accommodation plan that includes dinner.
The hotel offers the following restaurants.
DINNER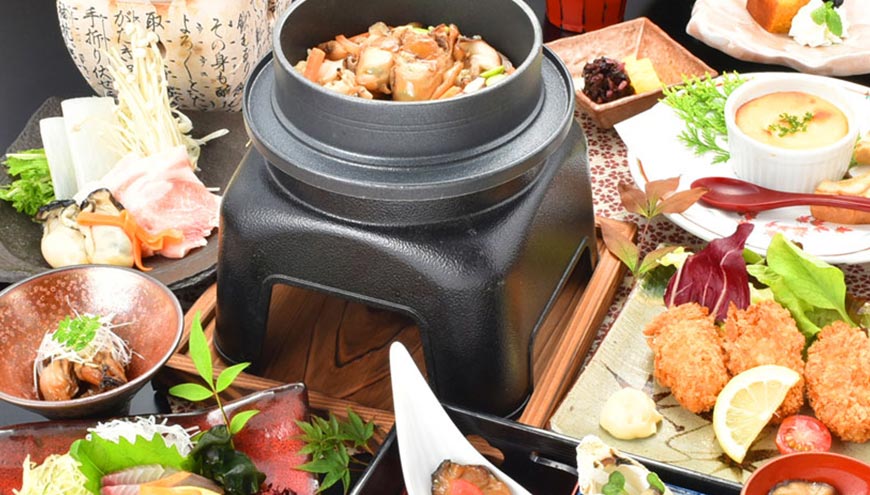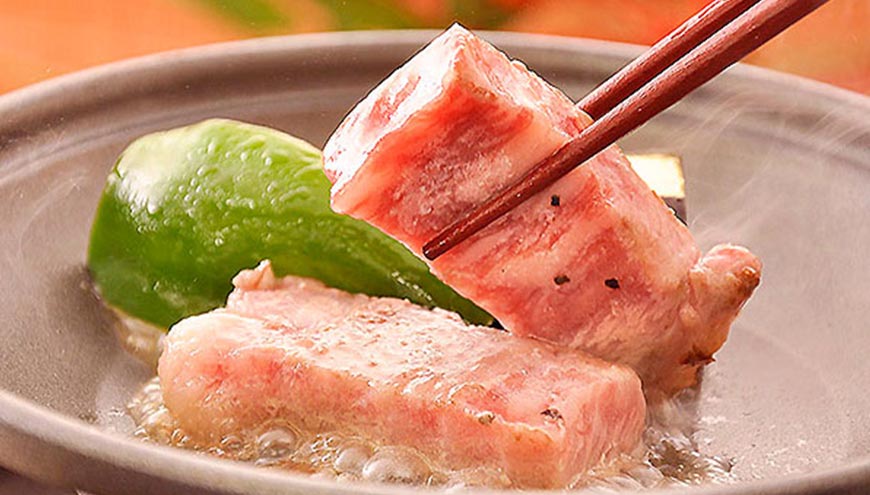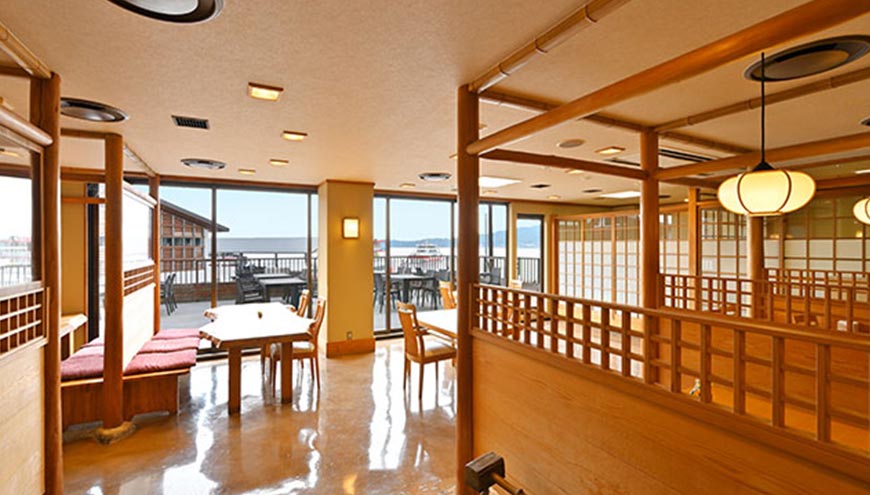 The restaurant offers a variety of dishes including seasonal kaiseki (Japanese multi-course set meal), which is the most popular choice at Miyajima Coral Hotel
Seasonal kaiseki and oyster kaiseki that lets you relish select seasonal ingredients are served. End your day with a deeply satisfying dinner. Children's menu is available, as well.
Floor
2F Chaya Wataya
Note
When the restaurant is crowded,
we may ask you to dine in a banquet hall.
BREAKFAST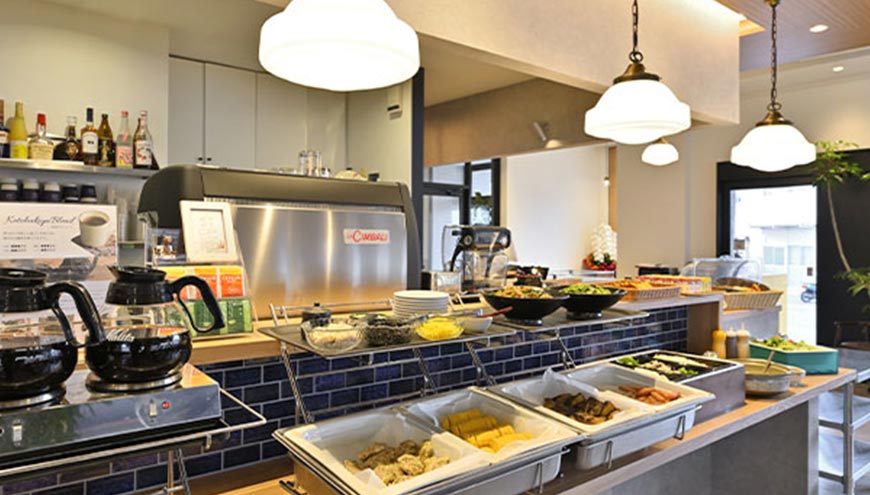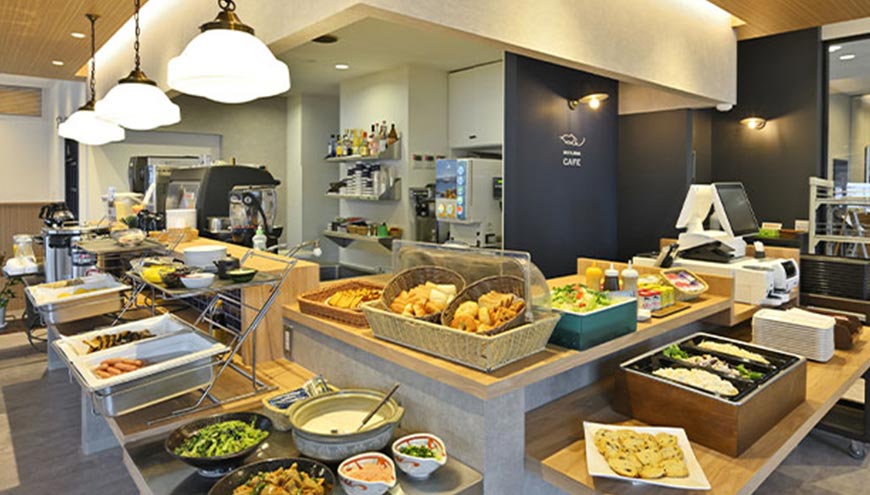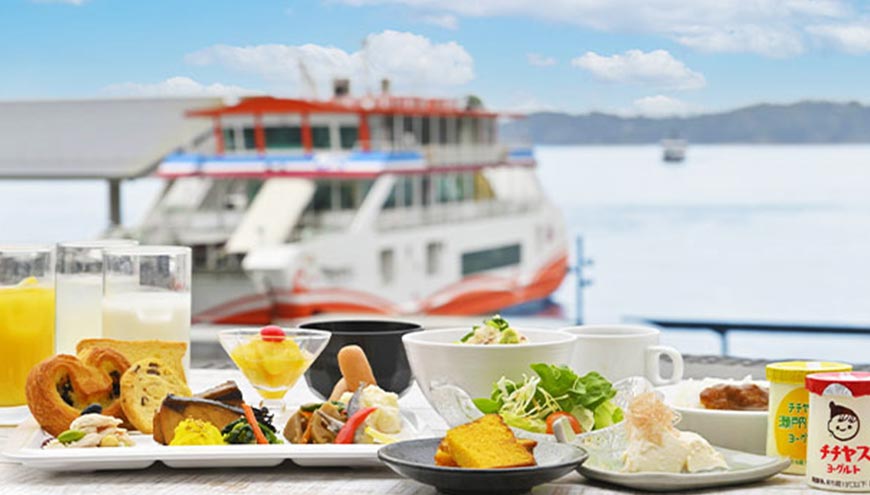 Complimentary breakfast is available for all our hotel guests
Chazuke (rice with tea poured over it) with black sea bream of Seto and our specialty, curry & rice.
House-made French toast and Chichiyasu yogurt. Breakfast is something you take in first thing in the morning, so what to serve was selected with much care by the Miyajima Coral Hotel.
Enjoy breakfast in a spacious restaurant with a liberating view
Breakfast time
6:30 AM - 9:00 AM
(last admission 8:30 AM)
Floor
1F MIYAJIMA CAFE
Note
Please understand that the number of seats is limited.
When the restaurant is full, we provide another dining area.
As a measure against COVID-19
・As a measure against COVID-19, we have all our employees wear a mask and monitor their health thoroughly.

・Please take your temperature, clean your hands with alcohol-based hand sanitizer, and wear a mask before entering the restaurant where breakfast is served. When taking food from the buffet, please wear plastic gloves provided.

・To prevent the restaurant from getting crowded, we may limit the dining time.

・How we serve breakfast may change without notice as a measure against COVID-19. Measures will be taken flexibly.
Breakfast may be served as a take-out, a set meal on a tray, or any other way to have our guests dine safely. We ask for your understanding and cooperation.
Restaurant/Cafe
Miyajima Coral Hotel offers a restaurant and a cafe where our guests can enjoy meals whenever they like.
Please feel free to stop by.
MIYAJIMA CAFECAFE & BAR
1F Café / Take-out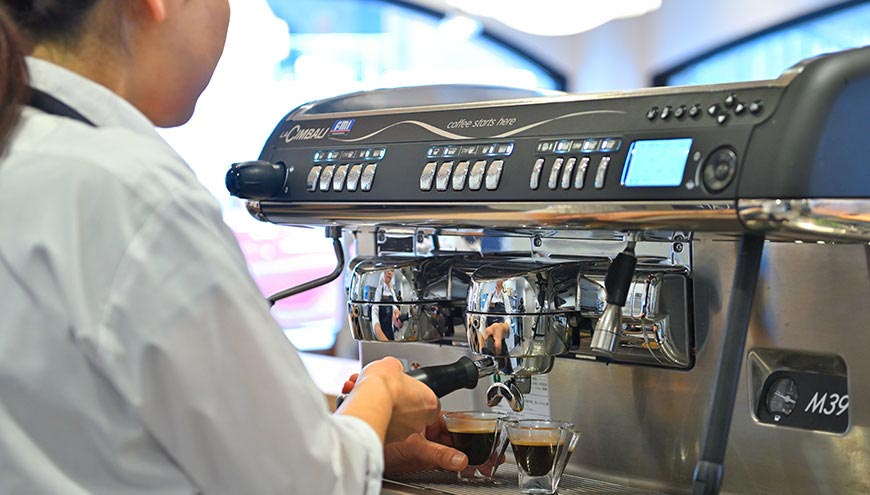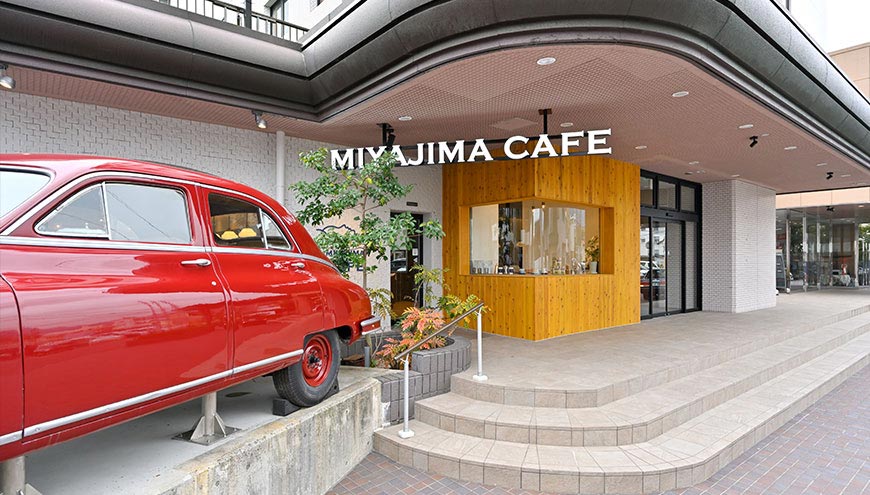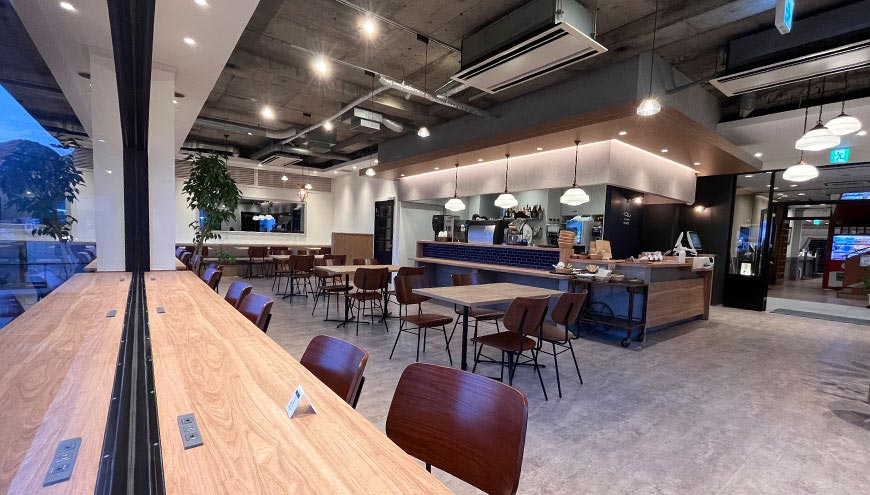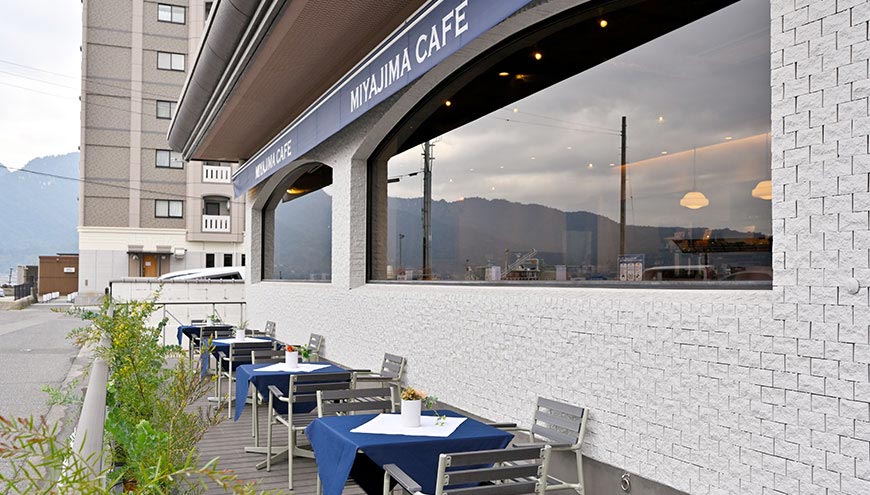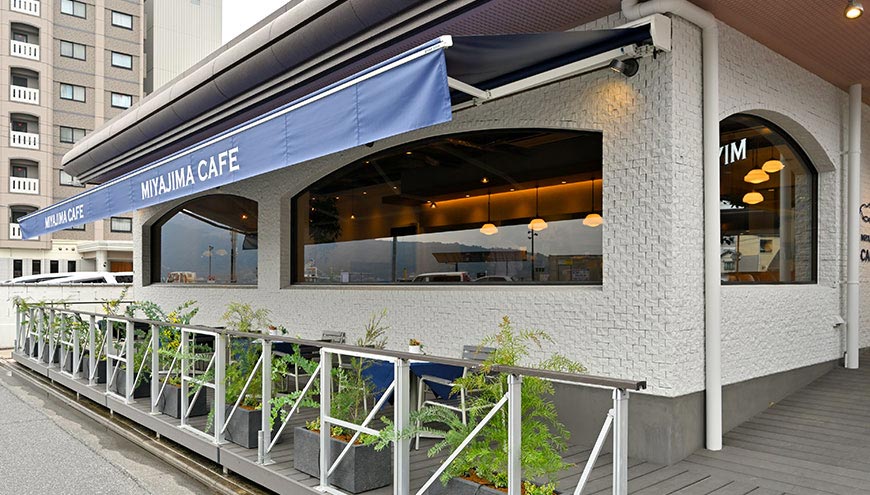 A cafe that lets you savor Hiroshima specialty oyster/Conger Eel burgers
with freshly brewed coffee and local beer
Savor Hiroshima's signature dishes, burgers and curry with oysters/Conger Eel, while viewing the Seto Inland Sea that stretches outside the windows. They're exquisite!

Hiroshima's brand, Chichiyasu's milk is used to make cafe latte brewed with La Cimbali's authentic espresso machine. Have a taste of our authentic cafe latte.
Alcoholic beverages are available, too. You can enjoy local beer out on the terrace at night.
Opening hours
11:00 AM - 9:00 PM
(L.O. 8:30 PM)
Floor
1st floor
Seats
38 seats
Others
Take-out available
Reservations & Inquiries
+81-892-50-1004
BEST SELLERS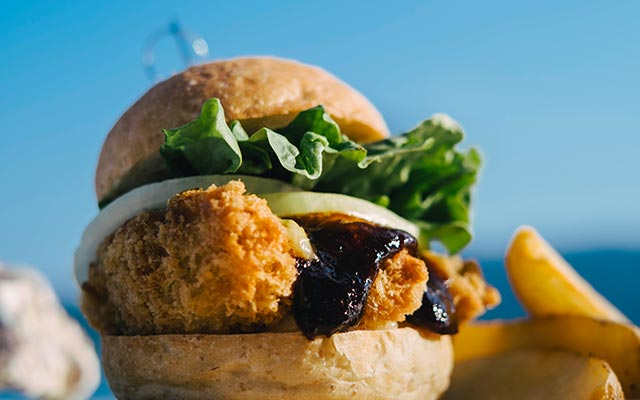 Oyster Hamburger
-Fried Oyster Burger-
Bouncy buns and fresh vegetables.
The burger allows you to relish the savory taste of Hiroshima oysters to your heart's content.

There are three large oysters inside. The crispy coating and distinct flavor, smell, and deliciousness of oysters are not lost even when made into a burger.

With the combination of tartar sauce with a kick of garlic and Hiroshima brand Otafuku Sauce, the burger is tasty down to the last bite.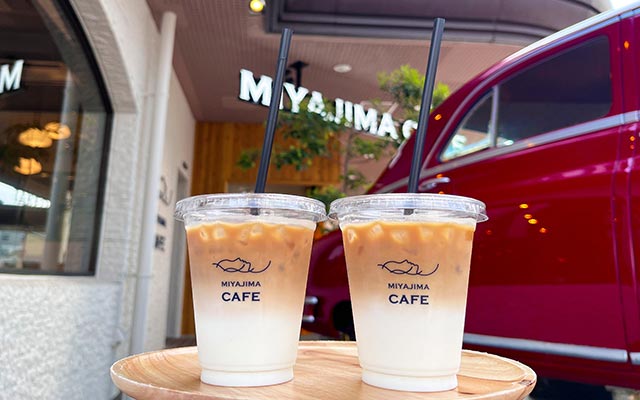 Cafe Latte
-Cafe Latte-
Have a relaxing, leisurely time with our specialty cafe latte while watching the ferry come and go, to and from Miyajima.

Our rich flavored coffee is sourced from "Kotobukiya Coffee," a long-established coffee company that took root in Hiroshima in 1947. Milk is also sourced from a major Hiroshima brand, "Chichiyasu."

Enjoy a cup of cafe latte made with La Cimbali's authentic espresso machine which fully brings out the potentials of these ingredients.
Chaya WatayaRESTAURANT
2F Japanese Restaurant/Hiroshima Specialties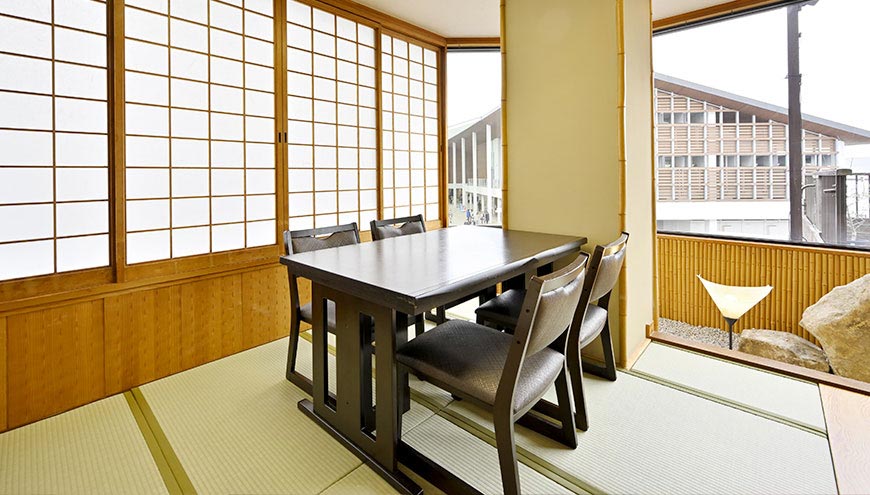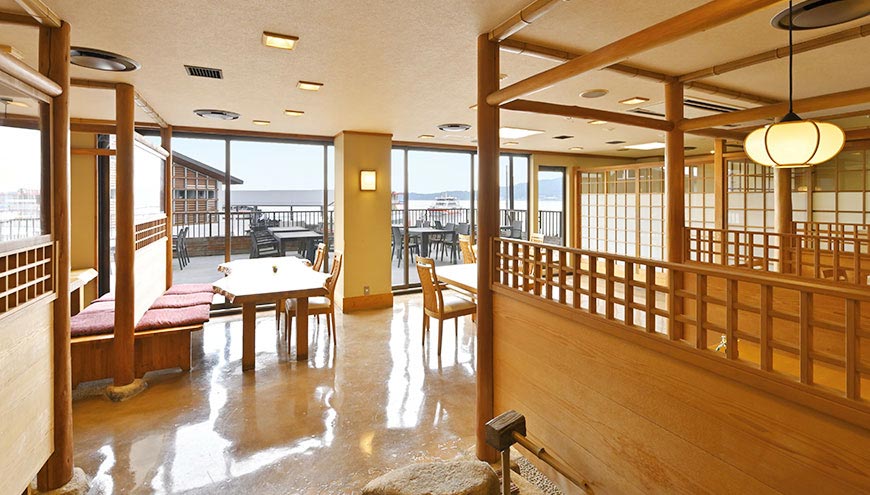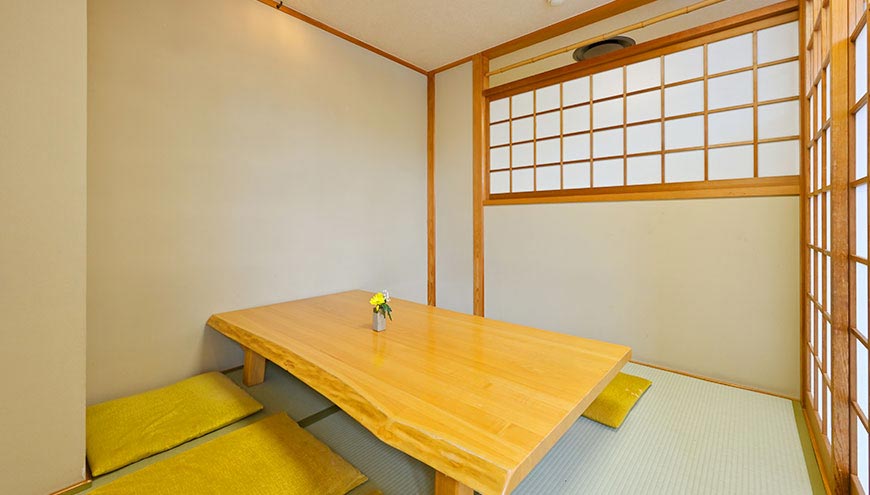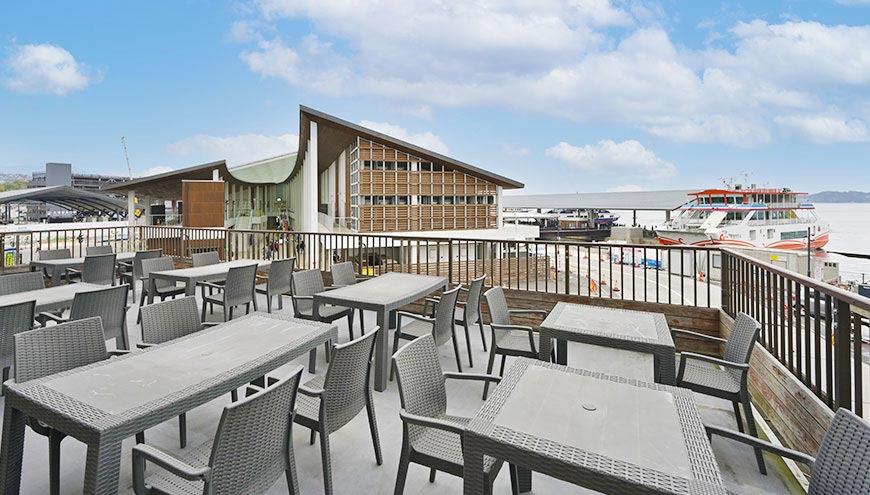 Have a Pleasant Dining Experience While Viewing
the Beautiful Seto Inland Sea
Various dishes are available, including our signature dishes, kamameshi (mixed rice cooked in a pot) and oyster tasting set,
which allows you to compare oysters prepared in different ways.
Hotel guests are welcome to enjoy dinner here, even if they didn't make a reservation in advance.
Opening hours
Lunch 11:00 AM - 3:00 PM
(Last order 2:30 PM)
Dinner 5:00 PM - 10:00 PM
(Last order 9:30 PM)
Sites
Miyajima Coral Hotel, 2nd floor
Seats
59 seats
Reservations & Inquiries
+81-829-50-1005

Lunch Time
The Most Popular Menu Item is Hanakago (Flower Basket) Lunch, Which is Limited in Availability
Savor our set lunch meal packed with oysters, Conger Eel,
and other delicacies of Hiroshima.
Desserts and other dishes are also available.
Lunch Hours
11:00 AM - 3:00 PM
(L.O. 2:30 PM)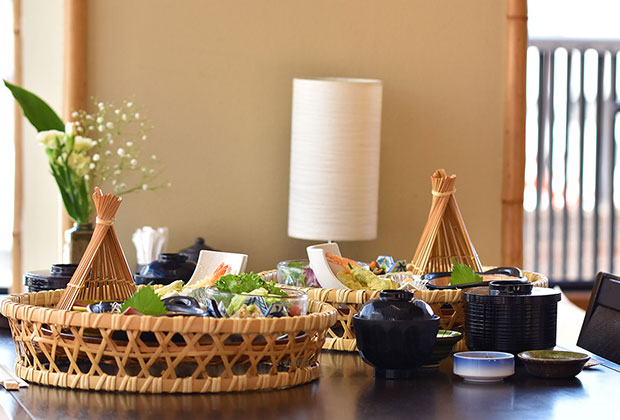 Dinner Time
Savor our oysters, Conger Eel, Hiroshima beef,
and other lip-smacking specialties
We provide fancy kaiseki (Japanese multi-course set meal) with delicacies Hiroshima is proud to offer, and exquisite a la carte dishes that go well with alcoholic beverages.
Enjoy our seasonal offers.
Dinner Hours
5:00 PM - 10:00 PM
(L.O. 9:30 PM)