Extensive services and comfortable facilities/equipment.
A hotel that relieves your fatigue from travel
SERVICE
Information on complimentary breakfast and services provided at the front desk.
Please feel free to make inquiries.
Front Desk Service

When You Need Help, Ask the Front Desk

We store your luggage and provide mobile phone chargers and other equipment for free of charge. Please contact the front desk if you wish to use these services. We offer support to make your trip comfortable.

Complimentary Breakfast

Complimentary Breakfast for Guests

We offer delicious breakfast for busy mornings. Savor our popular chazuke (rice with tea poured over it) with black sea bream and curry & rice.
INFORMATION
Free-Wifi

Luggage storage
Services
For your comfortable stay
Memory foam pillow/
Buckwheat pillow

Desk Lamp

Iron (2 units)

Hair iron

Board games
Rent-free
Feel free to ask the front desk
FACILITIES
The hotel is equipped with a coin laundry and vending machines.
Multiple halls that can be used for various purposes, including banquets and conferences, are also available.
Feel free to make use of them.
About Facilities
1F CAFE & BAR

MIYAJIMA CAFE

A cafe & bar with a sophisticated ambience where you can enjoy oyster/conger eels burgers, desserts, as well as beer and wine. Watch Miyajima ferries come and go in the Seto Inland Sea and have a leisurely time.

2F Japanese Restaurant/Hiroshima Specialties

Chaya Wataya

A variety of wagozen (Japanese set meals), kamameshi (mixed rice cooked in a pot), and exquisite a la carte dishes are available for you to relish Hiroshima specialties. The restaurant offers Japanese-style private rooms where you need to take off your shoes.
2F

Koyo

Japanese-style private room "Koyo," often reserved for celebratory events and memorial services. Select either chairs or zaisu (legless chairs). There are other rooms suitable for various purposes. Please feel free to ask.

1F

Souvenir Shop

The shop offers gourmet food and souvenirs selected by the Miyajima Coral Hotel. The hotel staff who know much about Hiroshima personally select items recommended for the guests. Please stop by.

1F

Amenity Corner

Wash towels, bath additives, makeup remover, and other amenities are free for you to take. Some equipment, including hair irons, LAN cables, and desk lamps, can be rented for free of charge.

Vending Machines

Various juice and tea are available.
* There is only one ice machine and it is located on the 3rd floor of the New Wing.

Coin Laundry

There are 2 washing machines (100 yen/load) and 2 drying machines (100 yen/30 min.). Please use the detergent provided for free.
PARKING
Miyajima Coral Hotel is equipped with 55 exclusive parking spaces (for standard-sized cars).
Hotel guests can use our exclusive parking spaces and enjoy their trip for less.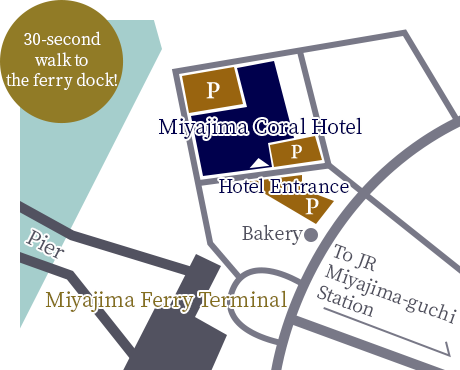 Parking spaces are available for free from 12:00 p.m. on the arrival day to 12:00 p.m. on the departure day.
You can go out while leaving your car at the hotel. It's convenient when touring around Miyajima!
The hotel is equipped with 55 exclusive parking spaces (for standard-sized cars) for hotel guests.
Parking spaces are available on a first-come, first-served basis. If parking spaces are not available, we provide information on parking lots located nearby. There are 3 exclusive parking lots around the hotel, including one by the entrance.
* Buses and trucks cannot be parked.
* After check-out, parking spaces can be used for 1,000 yen per day. However, please note that if the hotel is fully booked the next day, parking spaces may not be available.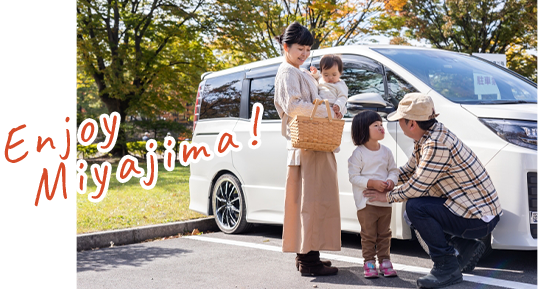 Please come and stay at Miyajima Coral Hotel during the tourist season!
With parking spaces, it's very convenient when touring around Miyajima!
A great place to stay for those traveling with children.